Marine Grade Aluminum Plate 5754 For Ship
Marine grade aluminum plate 5754 is produced by hot rolling process, so the fatigue strength and welding performance of the plate are better than cast-rolled aluminum plate. Bottom plate of ship refers to the aluminum plate at the bottom of the ship's shell. Since the forces on each part of the bottom plate are different, the thickness of the aluminum plate is different. The bottom longitudinal middle line of the ship plate in the lowest part of the ship is most vulnerable to water corrosion, so the most basic requirements for the marine grade aluminum plate for bottom plate is high corrosion resistance.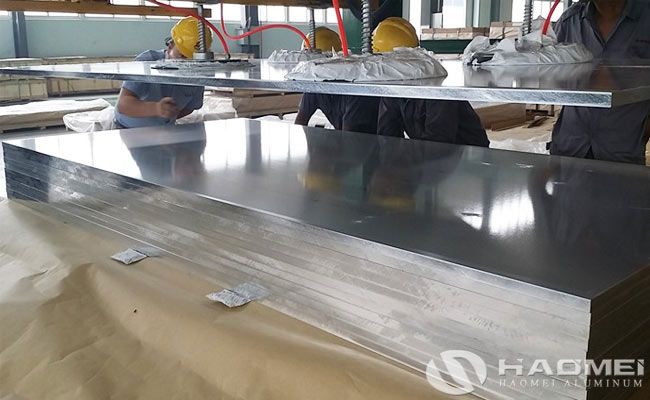 The 5754 aluminum plate marine grade for the ship bottom plate is a typical alloy in the Al-Mg series alloy, which has the characteristics of medium strength, good corrosion resistance, weldability and easy processing and forming. The 5754 medium-thick aluminum plate for the ship bottom plate is mainly used for places which require high machining performance, excellent corrosion resistance, high fatigue strength, high weldability and medium static strength. Therefore, 5754 marine grade aluminum plate is a very good choice for ship plate. We guarantee that the material content of the 5754 aluminum plate is up to the standard, the flatness, the surface quality, and the internal organizational structure.


After 20 years of continuous development and improvement, Haomei Aluminum have excellent technology and professional technicians. The ship plate produced is responsible for the quality of the ship plate branch. As a 5754 aluminum plate manufacturer, the 5754 aluminum plate produced by Haomei Aluminum is used for ship plates, and the surface has no cracks and corrosion spots. And nitrate traces, excellent quality, far exceeding the national standard, the quality is trustworthy. The marine grade aluminum plate 5754 produced by our company has a magnesium alloy content up to the standard, which is suitable for use in various acid-base environments and marine environments. Our company has passed the certification of China Classification Society and specializes in the production of high-end aluminum-magnesium alloy plates for ships.