Aluminium Chequered Plate Marine Grade
Aluminium chequered plate marine grade 5083 is a commonly used aluminum checker plate model in shipbuilding aluminum alloys. The performance of 5083 aluminum checker plate is stable, and it can resist corrosion very well in seawater, steam and other environments. Haomei Aluminum produce 1 bar (also called diamond plate), 2 bar, 3 bars, 5 bars, etc. The 5 bar aluminium chequered plate is the most common seen product of marine aluminum checker plate, 5083 and 5083 aluminum checker plate marine grade are widely used in anti-slip floors for ships. The quality of the products makes Haomei Aluminum's aluminum chequered plate popular in domestic and foreign markets.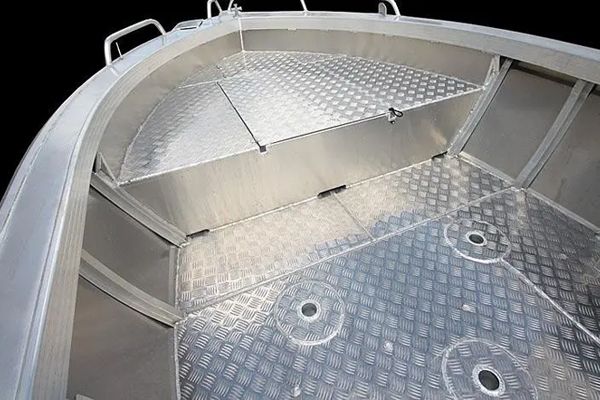 Haomei Aluminum is able to provide 5083H321 aluminium chequered plate marine grade for ships with good corrosion resistance. Haomei Aluminum's marine grade aluminum checker plate products have been certified by China Classification Society(CCS), DNV, KR, LR, BV and so on. With high flatness and good corrosion resistance, 5083 aluminum checker plate have been designated as special products by many shipbuilding companies at home and abroad. 5083 aluminum alloy marine grade is suitable for mechanical parts, chemical equipment parts, shipbuilding, yacht manufacturing and other industries that have requirements on strength and strict requirements on corrosion resistance.


The low density, high strength, high rigidity and corrosion resistance of aluminium chequered plate marine grade make aluminum ships 20% lighter than ships built with steel or other alloy materials. This can reduce the weight of the ship and reduce energy consumption. The marine grade aluminum checker plate can resist the corrosion of the atmosphere, steam, water and other media in the marine climate for a longer period of time, and is durable and more economical.